There are whispers on the street and rumors in the air; the much-anticipated Samsung Galaxy S23 series is around the corner. And as we eagerly await the official reveal, tech sleuths have been busy connecting the dots and painting a pretty good picture of Samsung's next-gen flagship smartphones.
With anticipation high and rumor mills rustling louder, we've combed through the most reliable sources in the tech world to bring you a roundup of everything you can expect with the upcoming Samsung Galaxy S23 series before the official announcement.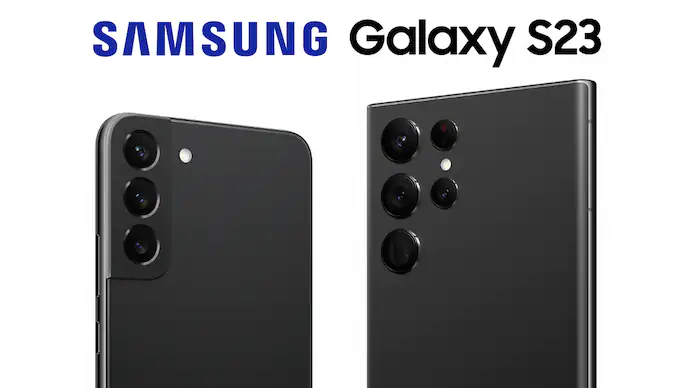 Release Date
The question on every tech enthusiast's mind: When will the Samsung Galaxy S23 be launched? Ice Universe speculated a February 1st launch for the Galaxy S23 a while ago. And emerging details suggest the serial leaker was onto something—with Samsung recently scheduling a Galaxy Unpacked event for Feb.1.
And while the company did not explicitly reveal the devices they'll be revealing, all signs point to the release of the Samsung Galaxy S23. Case in point, the fan-favorite Galaxy S22 series was announced to the world on February 9th, 2022.
Models and Design
To say the Galaxy S22 lineup was a hit would be an understatement. The smartphones were deservedly one of the best Android devices in 2022—and their sleek design had a big role to play in the warm market reception. As such, it would be hard to imagine Samsung reinventing the design language—and emerging renders by Onleaks and Smartprix suggest the same.
Samsung Galaxy S23 rumors point to three models in the series:
Samsung Galaxy S23: According to rumors reported by GSM Arena, the base model will measure 5.76 x 2.78 x 0.30 inches.
Samsung Galaxy S23 Plus: The larger 'Plus' model will measure 6.21 x 2.99 x 0.30 inches—a barely noticeable bump from the 6.20 x 2.98 x 0.30-inch dimensions of the S22+.
Samsung Galaxy S23 Ultra: Ice universe and SamMobile report that the Galaxy S23 Ultra (aka., the crème de la crème of the lineup) will measure 6.43 x 3.07 x 0.35 inches.
Display
While Samsung can tinker with the contrast ratios and brightness of the upcoming flagships, most rumors suggest the core display specs will remain largely unchanged from last year's S22 lineup.
The base Galaxy S23 is likely to feature a 6.1-inch (2,340×1,080 pixels) OLED panel. Its immediate upgrade, the Galaxy S23+ may come with a 6.6-inch (2,340×1,080 pixels) OLED display. As per TENAA's certification documents (via SamMobile), the Galaxy S23 Ultra (SM-G9180) has a QHD+ resolution (3,088×1,440 pixels) display. All phones are believed to have a hole-punch notch and an adaptive 120Hz refresh rate.
Cameras
This is where the specs get juicy! If exciting reports by SamMobile and ETNews come to pass, expect a whopping 200MP primary camera on the Samsung S23 Ultra. This is part of a quad camera setup—including a 12MP (or 10MP) ultrawide, a 10MP (or 12MP) 3x telephoto, and a 10-megapixel telephoto with 10x optical zoom.
Ice universe also cautiously speculates that the 200-megapixel primary camera may get an f/1.7 aperture and 0.6μm-sized pixels. You may also have the ability to record 8K videos at 30fps—up from the 24fps capture in the S22.
The base model Galaxy S23 and the S23+ are likely to have the same rear camera specs as their 2022 predecessors.
Performance and Battery
Now, what's under the hood? How functional is the upcoming Galaxy S23 lineup compared to its competitors?
All devices in the series will run on Qualcomm's latest processor, the Snapdragon 8 Gen 2 (AC version)—which has a higher clock speed than the vanilla Snapdragon 8 Gen 2 (AB version). The most powerful of the lot (the S23 Ultra) is expected to boast an octa-core processor with three CPU clusters running at 3.36GHz, 2.8GHz, and 2GHz, respectively.
When it comes to memory and storage, the S23 and S23 have 8GB RAM—with storage options of between 128GB and 512GB. The Ultra comes with 8GB/12GB RAM and up to 1TB of storage. One interesting rumor claims that the Galaxy S23 lineup will come equipped with faster (130%) and more efficient (20% less power consumption) LPDDR5X RAM. This may give the company an edge in its fierce competition with Apple.
Powering the devices is a 3,900 mAh (base model), 4,700 mAh (S23+), and 5,000 mAh (S23 Ultra) battery. The Plus and Ultra are expected to support 45W wired fast charging and 10W wireless charging—while the based S23 makes due with 25W wired fast charging.
Satellite Support?
Apple made the headlines with its SOS feature that gave iPhone 14 users access to satellite communication during emergencies. And according to rumors covered by Tom's Guide, Samsung may be borrowing from Apple's playbook by working with Iridium Communication to bring satellite support to the Galaxy S23 series.
Price
With all its nifty features, what are the prices of the Samsung S23 lineup?
Initial rumors pointed to a likely increase in S23 prices—and with inflation running rampant—it made sense. But a screenshot of Verizon's internal system (as posted on Reddit) suggests that Samsung may maintain the S22 prices despite the tough economy. Here are the purported Samsung Galaxy S23 prices:
Base Galaxy S23: Prices start at $799.99
Galaxy S23 Plus: Prices start at $999.99
Galaxy S23 Ultra: Prices start at $1,199.99
TechArmor – Guarding Your Peace of Mind, One Screen at a Time
When you get your hands on a Samsung Galaxy S23, upgrade your experience with our premium screen protectors. Made with the finest materials and engineered to perfection, our protectors offer superior protection against scratches, cracks, and everyday wear and tear.
Keep your screen looking as pristine as the day you bought it, and enjoy your device to the fullest without worrying about any unsightly damage. We give you the peace of mind that comes with knowing your device is fully protected.